Maui Beachfront Villas is located on the sandy beach in South Maui, Hawaii. Maui Villas consist of four luxurious oceanfront Villas of 2,000 square feet or 186 square meters each. All four Maui Villas are tastefully furnished and decorated to bring you Hawaii oceanfront living at its finest.
Villa 1 - oceanfront on the second floor: 2 master suites plus guest room/bath
Villa 2 - oceanfront on the ground floor: 2 master suites plus guest room/bath
Villas 3 - two-story Townhouse with ocean view. 2 master suites plus guestroom/bath; extra family room downstairs, extra half bath off kitchen
Villas 4 - two-story Townhouse with ocean view. 2 master suites plus guestroom/bath; extra family room downstairs, extra half bath off kitchen
In addition, each villa comes with central air-conditioning, a dinning/living room, a gourmet kitchen, a full laundry room as well as outdoor living spaces such as balconies and patios.
The property is gated with electronic gates. There is a heated salt water swimming pool and hot tub; poolside BBQ and dinning; outdoor shower; wireless internet and of course the magnificence of walking right out onto the beach for a morning swim or a few miles walk in the sand.
Maui Beachfront Villas are within walking distance of Azeka's Mall which features over 50 shops, grocery stores, medical office, wine store and a variety of restaurants featuring regional and international cuisines. Less than a mile away on Pi'ilani Highway is the Pi'ilani Village Shopping Center. Among the 30 plus shops you will find Safeway, Blockbuster, Ruby Tuesday, Outback Steak House, and Starbucks just to name a few.
As a bonus, this property is perfect for your Maui Beach Wedding and corporate events. It is highly recommended that a Wedding Coordinator is contacted to assist in the permit process and the regulations for having a wedding on the beach front area of the property. You cannot find a Maui rental where it can be rented in 3, 6, 9 or 12 bedroom configuration. On-Site Massage Therapist and Stand-Up Paddle Board lessons are also available! - Please inquire.
Floor plans: Oceanfront Downstairs / Oceanside End / Oceanside Middle
Hawaii I.D. No. W90096054-01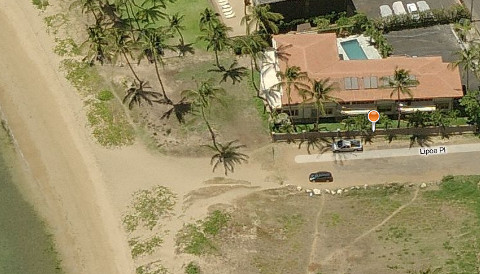 The Kihei Beachfront Villas is located in the heart of South Kihei within walking distance to shopping malls, grocery stores, restaurants and fast-food outlets, post office, medical facilities, gas stations, banks, church as well as public transportation. Not to mention the miles of walking beach just steps away from the property.
Property Address:
1338 Uluniu St. Kihei, HI 96753
Availability for each unit is listed below
6 Persons per Villa, 8 persons max - $50/additional person
A departure cleaning fee of $350 per check out applies (Discounts may apply for more than 1 villa.)
* Minimum stay when renting all 4 Villas is 5 nights
| Period | Villas 1 & 2 | Villas 3 & 4 | 3 Villas | 4 Villas | Minimum Stay |
| --- | --- | --- | --- | --- | --- |
| 03/16/2013 - 05/31/2013 | $895 | $795 | $2,400 | $3,200 | 5 nights |
| 06/01/2013 - 08/31/2013 | $995 | $895 | $2,700 | $3,600 | 5 nights |
| 09/01/2013 - 11/16/2013 | $895 | $795 | $2,400 | $3,200 | 5 nights |
| 11/17/2013 - 11/28/2013 | $995 | $895 | $2,700 | $3,600 | 5 nights |
| 11/29/2013 - 12/17/2013 | $895 | $795 | $2,400 | $3,200 | 5 nights |
| 12/18/2013 - 01/04/2014 | $1,650 | $1,550 | $4,700 | $6,000 | 7 nights |
| 01/05/2014 - 03/15/2014 | $995 | $895 | $2,700 | $3,600 | 5 nights |
| 03/16/2014 - 05/31/2014 | $895 | $795 | $2,400 | $3,200 | 5 nights |
| 06/01/2014 - 08/31/2014 | $995 | $895 | $2,700 | $3,600 | 5 nights |
| 09/01/2014 - 11/16/2014 | $895 | $795 | $2,400 | $3,200 | 5 nights |
| 11/17/2014 - 11/28/2014 | $995 | $895 | $2,700 | $3,600 | 5 nights |
| 11/29/2014 - 12/17/2014 | $895 | $795 | $2,400 | $3,200 | 5 nights |
| 12/18/2014 - 01/04/2015 | $1,650 | $1,550 | $4,700 | $6,000 | 7 nights |
Features & Amenities (All 4 Villas)
Bedroom / Bathroom Description
Bedroom 1: Sleeps 2: King bed, En-suite, Shower/Tub, Central Air conditioning
Bedroom 2: Sleeps 2: King bed, En-suite, Shower, Central Air conditioning
Bedroom 3: Sleeps 2: Queen bed, Shower, Central Air conditioning
Features & Amenities


TV
Cable
DVD player
CD player
Free Wireless internet
Washer
Dryer
Hairdryer
Beach towels

Kitchen

Blender
Microwave
Toaster
Coffee maker
Dishwasher
Table-top Grill
Convection oven
Subzero refrigerator

Outdoor Features

Heated Salt Water Pool
Outdoor showers
Ocean front
Gated property
Pool side seating
Beach front
Sunset view
BBQ grill

Villa Policies

6 persons per villa, 8 persons max
No smoking within villa
Pets are not allowed
Voltage -USA standard
Mid-stay maid service available at an additional $150
Departure Cleaning fee $350 - additional charge
Note: Departure cleaning fee may be slightly higher depending on # of children.

Getting There

Location

20 minute drive to Airport
2 minute walk to town
5 minute drive to Golf course
2 minute walk to grocery store
3 minute walk to Restaurant

Additional Information

Weddings and Social events are available for a maximum of 40 guests with a chaperone at an additional cost
Discounts may apply for last minute bookings
Damage deposit may apply
Required mid-stay cleaning charges may apply depending on length of stay
Review by: DSS
April 28 - May 3 2011
Thank you so much for sharing your amazing condo with us! Your home is absolutely gorgeious and has everything you could ask for.
We had our Board of Directors meeting here and did a lot of brainstorming for business development. We would love to come back every year! This place is so perfect for friends, family, business, and fun! We enjoyed our champagne & mai tais on the lanai every night. And our yummy scones from the lavendar farm every morning. Thank you so much!
---
Review by: Susette
05/2011
Thank you SO much again for all of your help with our recent stay in Villa 1. It was way beyond our expectations, we loved every minute of our trip! It provided a great place to work and brainstorm with my business partners, and then transition to relaxing and spending family time also.
Thank you very much! We look forward to coming back to stay in your lovely place again!
---
VILLA #1 - Departure Jan 2, 2011
It was a great venue for a Family vacation. The property was beautiful ,well equipped and big enough that everyone had their own bathroom and space. It was ideally located with magnificent views and close enough for everyone to pursue interests of golfing, jogging, swimming, shopping ,upscale dining, and hiking. We especially loved waking up to the sounds of the ocean and the magnificent views of palm trees framing the blue water just steps away. We were also especially appreciative of the owner allowing us a late check out on our departure day as our flight left at 10pm. That in itself was a huge bonus.
Was the villa missing something? It would have been nice to have insect screens so we could have left the place open at night rather than using the air conditioning. This was not really an issue..just something worth mentioning.
What could have been done better? We did not not feel anything was lacking.
---
Review by: Patrick
02/03/2011
I wanted to extend our thanks for helping us set up our trip and recommend your property. We had a great time and can't wait to return. The house was perfect, very comfortable, and a perfect location. Everyone was very friendly and helpful.
Thank you again for everything and I assure you that we will return soon.
---
Review by: L.D.
01/07/2011
I want to thank you so very much for our wonderful stay at Villa #3 last week. It was such a dream come true vacation for us in more ways than I can tell you and having such a beautiful place to stay just made it even more wonderful! This Hawiian vacation for my children was years in the making and I didn't know if my oldest daughter would live to experience it as she has been battling cancer for 3 years now. Seeing her walk on the beach was just a joy for this old mom!
The condo was everything you advertised it to be - absolutely stunning! And the sunsets could not have been more beautiful! We did all the touristy things and also just relished the beauty and weather of the island. I haven't been so relaxed in years. I didn't have any worries in Maui. (I need to come more often!) Thank you! Thank you! Thank you! I hope to return with my kids and we will stay again at the villa.
---
Links
- Michelle Martinez, Catering Sales,
alohaeventscatering.com
- Baby Furniture Rentals of Maui, (808) 879-4342 ask for Debbie. Free Delivery.
From
iTravex.com
Rhonda and Todd's Trip to Maui
My husband Todd and I were fortunate enough to have an iTravex stay given to us by our friends. After attending a conference on Oahu, we flew over to Maui in November of 2010, for our first experience on the island.
Our accommodations were in Kihei, in a three bedroom suite in an oceanside fourplex (#61653). Maui is known to be home to several famous Hollywood personalities. So, when we walked through the gated entrance of our vacation villa we felt like we had been catapulted into the lifestyle of the rich and famous. The pool and lounge area, shared by the four units, greeted us as we walked to the entrance of our unit. It was tastefully appointed with lounge chairs, bar height tables and chairs, potted plants and a small water feature. Privacy was provided by the high stone walls and lush greenery which made it feel like a secluded oasis.
Continued below....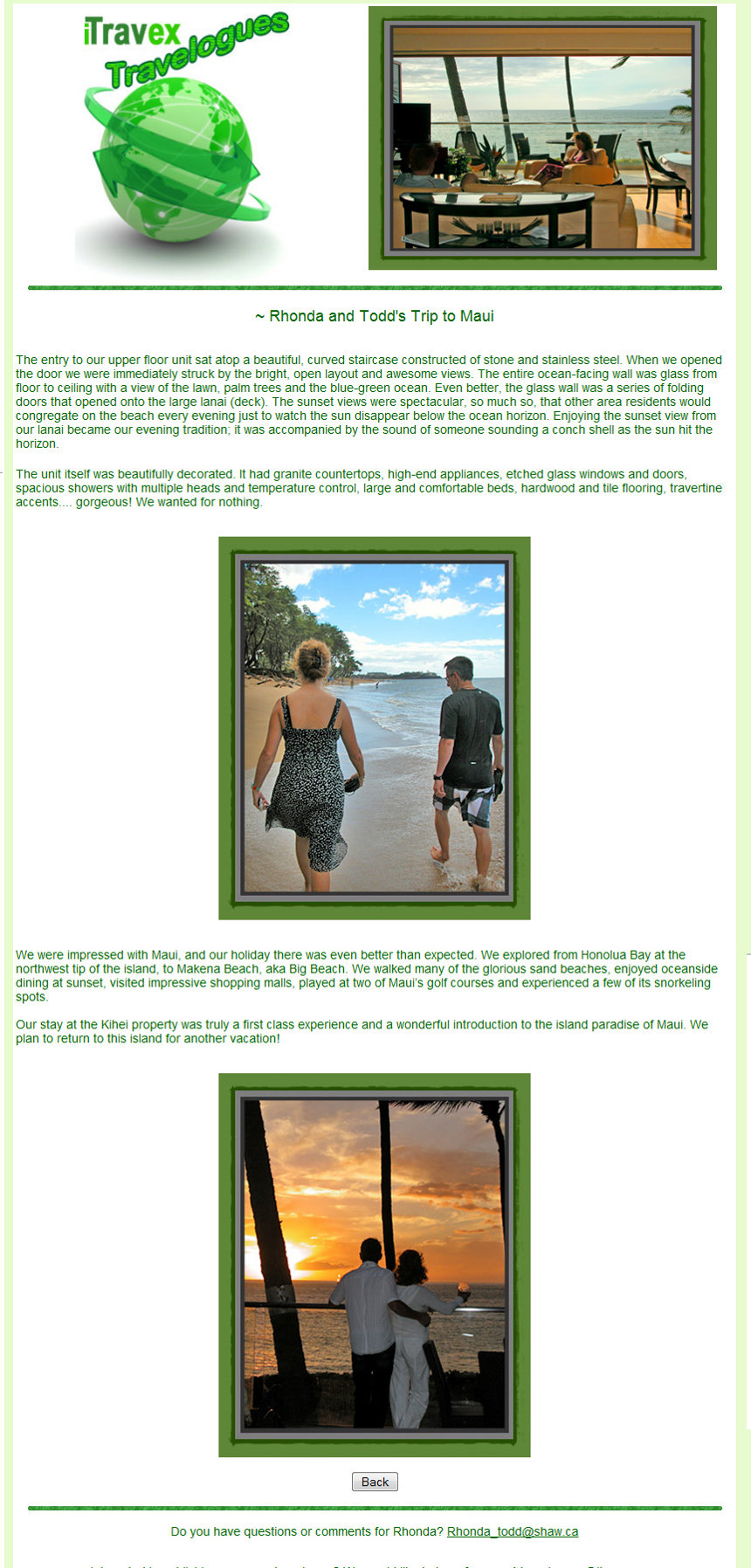 On-Site Massage Menu


Deep Tissue or Hawaiian Lomi Lomi

60 min Massage $110.00
90 min Massage $165.00


Body Treatment for Hot Stone Therapy

60 min HST $145.00
90 min HST $195.00


Body Treatmentment add-ons:

Hawaiian Salt Scrub $25.00
Facial Massage $25.00
Aromatherapy $15.00


Must call 808-270-1893 or 808-298-1131 for on-site appointment.
All payments by credit card only.